Bouvard-inpa areas of expertise
BOUVARD and INPA combine two areas of expertise on a single site (Pays de la Loire, 49), to create a real synergy of skills so as to facilitate your projects. A reciprocity of teams and know-how enabling the company to bring you an optimized global solution through simplified organization.
From the metal mould to thermoplastic injection
Initially specializing in the manufacture of metal moulds with BOUVARD (created in 1965), the company then continued its development with the creation of INPA in 1980 to embark on the injection moulding of plastic materials.

Today, these two complementary areas of expertise enable Bouvard INPA to guarantee its customers optimum quality and assist them through each stage of their projects, from preliminary studies to the final production of their parts.
Customized solutions
Right from identification of the need, our team places all its experience at the service of the customer, with an integrated design office available to design and optimize your product.

We can if you wish work from your 3D drawing or else produce it for you from your specifications and particular technical requirements. A preliminary study is regularly conducted, to advise you and optimize your project, through to the development of a working prototype, which will enable us to conduct numerous in-house quality tests before commencing final production.
Bouvard Inpa plus points
Responsiveness and Optimized Budgets
In-house cost and lead-time control for increased efficiency.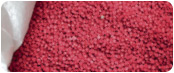 Versatility
Shapes, materials, colours, etc. the sheer diversity of plastic materials means we can readily adapt to the the requirements of any sector (medical, building, equipment, tools, sport and many more).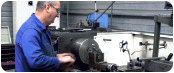 Know-how
Specialized teams, highly involved and continuously trained.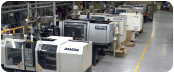 Quality
Advanced methodology and the latest equipment, with quality tests regularly conducted on new designs.
Our machines
Our workshops include ultramodern equipment, with 34 presses with a capacity of 35 to 600 tonnes.